Whether you want to give a financial gift, offer your expertise or volunteer your time, the New Opportunity School for Women has a way for you to serve.
Donate Now
---
NOSW depends on the generosity of supporters to keep our programs free to the women we serve. No gift is too small to make a difference!
$25 can provide a journal for one woman.
$50 can provide a gift bag for one woman.
$85 can provide a book for 5 women.
$150 can provide a dental exam for one woman.
$250 can provide eyeglasses for one woman.
Become a Sustainer
---
When you become a Sustainer, your recurring gift provides opportunities for women. It's a great option for you and for NOSW.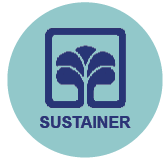 You get to decide how much and how often you give.
Once you set it up, your gift is automatic. You don't have to remember to give.
By spacing out your giving, you can potentially give more in a year than you might be able to give in a single gift.
You're part of a community of givers who believe in and support NOSW's mission.
Electronic Funds Transfer (EFT) from your bank account is the best way to make a recurring gift because you don't have to worry about your credit or debit card expiring. But you do have the option to use your card if you prefer.
Just click on the button below. When you get to the donation form, choose RECURRING.
Make a Tribute or Memorial Gift
---
When you make a gift in memory of someone you love or to celebrate an important milestone, we'll send a note letting them know of your gift. To make a memorial or tribute gift, click the Donate button below. An option to make your gift a memorial or tribute appears in the Additional Information section at the bottom of the page. Be sure to tell us where to send notification of your gift!
Make a Planned Gift
---
Leave a legacy that will support the mission of NOSW into the future.
Make a Gift of Stocks
---
A gift of appreciated stock can be a boost for NOSW as well as a tax benefit for you. Contact Robbie Pentecost at 859-985-7200 or rpentecost@nosw.org for the information you need to make a stock transfer.
Make an In-Kind Gift
---
We no longer accept clothing donations, but we are often in need of other types of supplies. Please call our office at 859-985-7200 to see if what you have to offer might be something we need.
Volunteer Now
---
There are many ways to contribute your time and talents to NOSW's mission. Give us a call at 859-985-7200 to learn more!
Become a Sponsor
NOSW is always looking for businesses, organizations and individuals to sponsor our programs and our women! This is a great way to let the community know of your commitment to empowering Appalachian women.