In honor of NOSW's 35th anniversary, founder Jane Stephenson gathered with four graduates on May 9 on Zoom to reflect on the history and impacts of the program.
"Thank you, Jane, for your incredible vision and your dedication to building a program that empowers Appalachian women to lead," said Jennifer Walden, NOSW program coordinator and a 2015 graduate who moderated the conversation.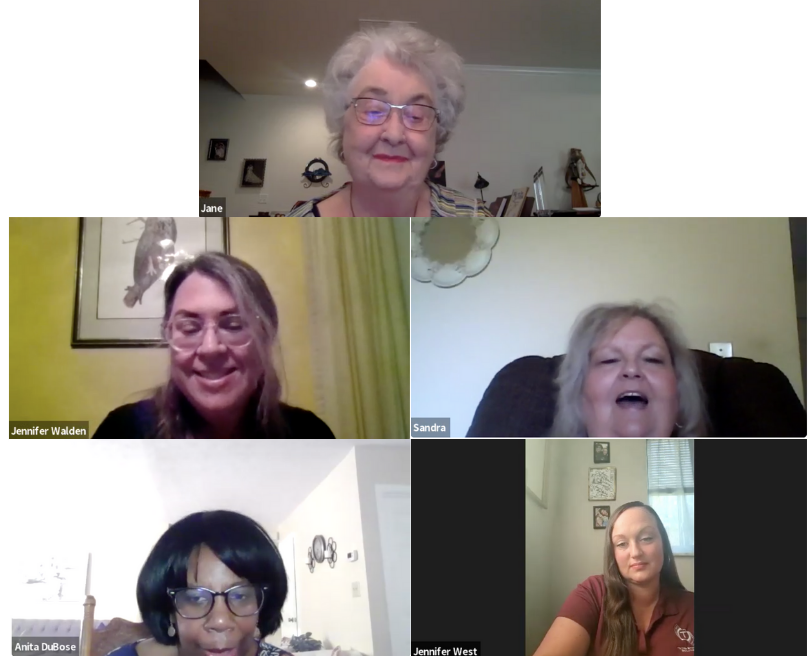 Jane described how NOSW came to be. She was first lady of Berea College when her friend Gurney Norman, a Kentucky author, called and asked if the college had any programs that could help a recently divorced woman with small kids and no job skills. "I said, 'We really don't, but we should.'" Jane pulled together some friends to brainstorm, wrote a grant proposal, and NOSW was born in the summer of 1987.
Anita DuBose came along in 1993. She was new in Berea, didn't know anyone and was a single parent in the middle of a divorce who couldn't find a job. "And I was at such low self-esteem that I thought, no, they wouldn't accept me. There's no way," Anita said. "But when I went to the New Opportunity School and applied, it was like going home. They just welcomed me in. They made me feel so good about myself."
Anita said she calls the New Opportunity School the Many Opportunity School. The connections and networking skills she gained at NOSW have served her throughout her career. She's now a program coordinator at Bluegrass Community and Technical College and has served on several nonprofit boards. "I learned that self-esteem is self-discovery," she said.
Sandi Keaton-Wilson's NOSW transformation came in 1995. "It was a perfect time for me to come," she said. "I was at a crossroads in my life, very depressed, single mother with little income, and I needed more education. There I received compassion, I received confidence, creativity, added to my credentials and most of all made wonderful connections that have lasted and have benefited me greatly." Sandi is now a published author and facilitator of the Pulaski County Writers' Alliance.
Jennifer Walden came to NOSW at a low point in her life when she had lost a job and was struggling to support her family. "I was fearful of what I was entering into, but I just knew," she said. "I had no hesitation that it was going to be something that I needed and something that was going to change my life. And it really has. From that day forward it's kept me going. It's propelled me to move from one goal to the next."
After NOSW, she applied to Berea College, was accepted and graduated in 2019 with her bachelor's degree in sociology and women's and gender studies. Soon after, she had her dream job as program coordinator at NOSW.
Jennifer West attended in the fall of 2019. "Prior to coming to the school, I had served jail time," she said. "I had completed a drug rehab program. I thought I was doomed to a life of poverty. And I did not have very high self-esteem. During those two weeks, all of that dramatically changed."
Jennifer gained confidence and courage. When the Waffle House where she worked shut down during the early days of the pandemic, she used her artistic talents to earn money making hats. As her sons were turning 18 and 21, she took a leap of faith and moved to Cincinnati, where she's now a job recruiter. "After those two weeks, I believed anything was possible." She recently helped launch the Renewed Woman, a nonprofit for women and children of domestic violence, and sits on its board.
The graduates also talked about their children, several of whom have completed or are pursuing college degrees.
"One of my greatest joys, now that it's been 35 years, is to be able to see not only what the women are doing but what their children are doing," said Jane. "And it's made a huge difference in the lives of children."
"The New Opportunity School is a program, but it's so much more than a program," said Sandi. "It's a life-changing event."
If you missed the conversation, you can watch the recording here.